Discover Dunblane
Located just a short 10 minute journey from the centre of Stirling by train or car, the historic cathedral city of Dunblane is your first choice destination for a unique and memorable shopping and leisure experience. With an impressive selection of award winning independent businesses offering great value, the very best service and an unrivalled selection of products and services you will find everything you need in the home of champions. Accommodation providers, restaurants, cafes, bars, sporting facilities, shops and a golf course are all available in Dunblane, making it an excellent place to visit for the day or for a short break.
Sir Andy Murray's Postbox
The town also boasts many celebrated attractions including the popular Gold Postbox and stunning Dunblane Cathedral. Re-painted following Andy Murray's first Wimbledon victory in 2012, the Gold Postbox has become the number one selfie spot in town (be sure to post yours on the Discover Dunblane Facebook and Twitter pages). From the postbox, you can see the majestic Dunblane Cathedral.
Dunblane Cathedral
Dunblane Cathedral, built upon a site first established by St Blane around the year 600, is one of the few surviving medieval churches in Scotland. The building is largely 13th century in date, though it incorporates an originally freestanding bell-tower of 11th century date on its south side. This tower was increased in height in the 15th century, a change clearly visible in the colour of the stonework, and in the late gothic style of the upper storey's windows.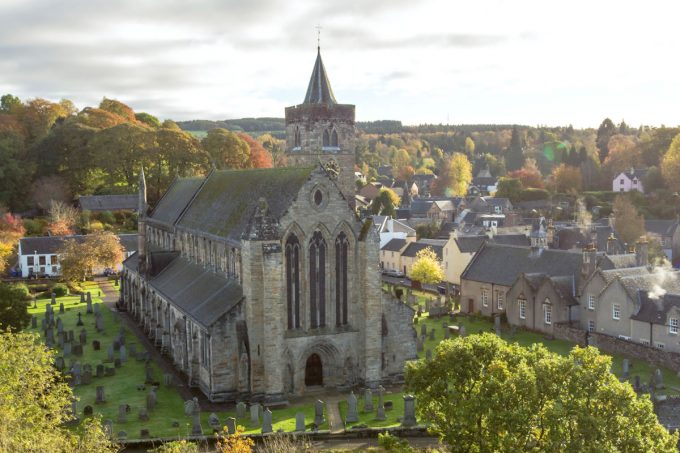 The cathedral stands serenely amid a clutch of old-world buildings, among them the 17th century Dean's House, which houses Dunblane Museum. The unassuming exterior is dwarfed by the tardis like interior spanning several buildings and containing many exhibits on local history; including a very special Andy Murray collection of memorabilia. Close by, the oldest private library in Scotland, Leighton Library houses 4,500 books in 90 languages printed between 1500 and 1840. Visitors can browse through some of the country's rarest books, including a first edition of Sir Walter Scott's Lady of the Lake.
For full information, including where to eat and drink, where to stay and more suggested things to see and do, visit the Discover Dunblane website: discoverdunblane.co.uk